We enjoy eating Indian food at home, and whenever I make Butter Chicken, it goes without even saying that I have to have naan bread with it. It's not an option, not to.
For years I have bought the Stonefire Tandoori Naan Bread from the grocery store. I warm up my tortilla pan, brush both sides of the bread with olive oil and then heat both sides on the pan to warm it and freshen it up, so it is nice and soft and feels freshly baked. I still like this brand, and if I'm in a hurry, I will still prepare it the same way.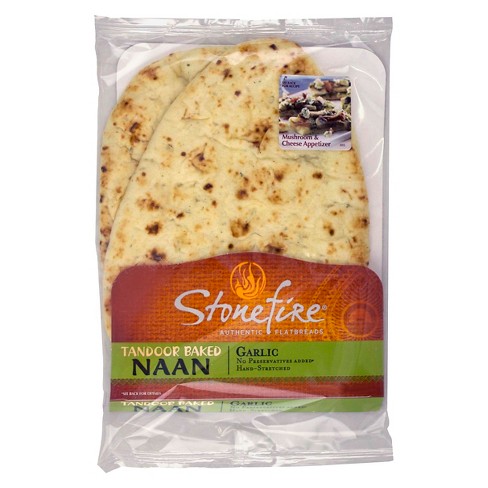 But, I made an effort to figure out a really simple way to make homemade naan. I didn't want to use yeast, or have to let it rise and stand for an hour. I wanted this to be simple and fast so that whenever I need naan bread, my first thought is to make it from scratch, because of how easy it is. I combed through many recipes, combined a few options and made it work for myself until I found just the right texture and flavor to suit what I like.
Here's my own simple version of naan:
Ingredients:
1 cup – Plain Whole Milk Yoghurt
1 ½ cups – All purpose flour (Plus an additional ½ cup for work surface)
2 teaspoons – Baking powder
½ teaspoon – Salt
½ stick salted butter – melted
½ teaspoon – Garlic powder
Instructions:
In a mixing bowl, combine your flour, baking powder and salt and mix together.

Add yoghurt and combine. You may need to add additional flour depending on the brand of yoghurt you use. If the dough is too sticky to work with your hands, then add more flour. The dough should turn out of the bowl smooth. This dough is incredibly soft and "fragile" feeling.

Generously flour your work surface. This dough needs to remain well floured at all times.

Cut your dough in half, and then in thirds, for 6 equal sized pieces.

Roll them into smooth balls, with floured hands and a floured work surface. You will notice how delicate this dough is. Be gentle with it.

Flour your rolling pin and roll out a circle about 6 inches in diameter. I like my naan a bit thicker, but if you wanted a very thin flatbread, roll out further and thinner. Be very light with your rolling pin. You will notice you barely have to touch the dough for it to work out. No heavy rolling.

Melt your butter for a few seconds in the microwave and add your garlic powder to it. Mix. At this time, get a non-stick frying pan heating on your stove. Just between low and medium. If you have a number dial, I suggest about "4".

Use a pastry brush to brush the tops of the dough. Cover completely.

Take a spatula and very gently nudge it underneath the dough. Flip it butter side down onto the heated frying pan. Then take your pastry brush and cover the other side while in the pan. You will see the top side start to bubble after about 30 seconds. You want to cook each side about 2 minutes before flipping. You should have nice golden brown toasty marks. Remove from pan and continue until all 6 naan breads are fried.

Sprinkle with parsley for color and serve.
Here's how they turn out:
Measure out one and a half cups of flour into a mixing bowl.
This is the flour I use – I prefer the unbleached white flour.
Then add your 2 teaspoons of baking powder.
½ a teaspoon of salt.
Measure out a cup of whole milk, plain yoghurt.
Here's the brand I use. Here's a tip – the type of yoghurt you use, will depend on how much flour you need to use. Some yoghurts have more moisture – so feel free to add additional flour if you need to. It's not wrong!
Start stirring the mixture together.
I found this time around I needed to add a little more flour to my mixture, so I added an additional tablespoon, plus a sprinkling more.
Then it came together smooth with my hands and I was able to get it clean from the bowl and onto the floured work surface. It should look about like this. You need to constantly keep your hands and work surface floured, but if it's still too sticky, keep adding a little more flour. This is really something that you need to play with depending on your yoghurt brand.
I cut it in half.
Then in thirds, for 6 equal pieces.
Then I rolled them with my hands into 6 little balls. Still keeping everything well floured.
Begin to roll them out with a floured rolling pin.
Be ever so gentle with this dough. You barely have to touch it and I swear, it yells at you that you're being too rough!
I make mine about 6 inches in diameter. I don't like it too thin. I want my naan bread to puff up and be thick.
Then I melt my butter in a small dish in the microwave (or stovetop if you prefer) and add some garlic powder. I brush it on the entire surface of the dough. This is about the time I get my frying pan on the stove heating up, to just under medium heat. I always use "4" on my dial.
Don't be shy with it. I like to see my reflection.
Then find a very thin metal or plastic spatula. (I would discourage silicon – it's too thick and the dough will bunch up against it). Ever so carefully, nudge it underneath the dough and transfer it to your heated frying pan. 
Flip it butter side down. (If you look close, you'll see I made a little hole in the dough with my spatula when I flipped it. I quickly pressed it closed with my fingers and when it cooked you never noticed – this is very forgiving when it cooks. So don't worry about funny shapes or little snags).
Then grab your melted butter and brush, and quickly coat the top side.
After about 30 seconds, you will see your bread starting to bubble. Oh boy. That's what we want to see!
After about 2 minutes, I flipped it over.
You should see golden brown spots, that are toasty looking. Cook for the same amount of time on the second side.
Continue the same for all 6 dough rounds.
I put all of my naan bread on a pretty hand embroidered tortilla linen from Mexico, that my Mother-in-law gave to me, to keep it all pretty, warm and cozy, and sprinkled on some parsley just to make it prettier.
Outside of a few Indian restaurants with beautifully made, traditional naan bread, this is the best I have ever had. It's soft and sort of spongy and literally melts in your mouth. It keeps well, wrapped tightly in plastic wrap on the counter (for about 2-3 days) and then re-warmed, and freezes well too.
Try to make this yourself next time you have homemade Indian food. Although it's a bit more effort, it's pretty simple and you will not be disappointed!
– The Homesteaders Wife